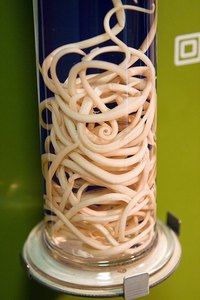 Intestinal worms are parasites. Left untreated, these stomach and intestinal invaders can cause medical issues such as malnutrition and bowel obstruction.
Types
There are three common classifications of intestinal worms that affect humans: Trichuris trichiura, or whip worms; Ancylostoma duodenale, or hook worms; and Ascaris lumbricoides, or round worms.
Signs and Symptoms
The appearance of small white spots in feces is often the first sign of intestinal worm infection. Bloating, loss of appetite, fever and cramping are common symptoms once the infestation advances to include adult worms.
Treatment
Prescription medications are available to kill the infestation. Some people try home remedies, including ingesting garlic oil and papya seeds.
Prevention
Always wash your hands prior to eating. Wash fruits and vegetables and thoroughly cook all meats. Do not drink from sources that are unpurified.
Prevelance
In 1996, the U.S. Nutrition and Dietary Consulate estimated that one in four people in the world are infected with a type of intestinal parasite.