Chicken contains cholesterol because all meat and animal by-products are sources of dietary cholesterol. However, how much it contains depends on a variety of factors. Chicken is also a great source of some essential vitamins and minerals. When you know how much cholesterol is found in chicken and how cholesterol affects your health, you can make better decisions about choosing it and preparing it.
Identification
The most common edible parts of the chicken are the wings and legs, and the meatier parts like the breasts and the thighs. We are not talking about eating the liver, gizzards or the feet, which are less common.
Features
There are nearly 50 mg of cholesterol in one roasted chicken thigh, 40 mg in a chicken wing that has been fried and 73 mg in half a chicken breast that has been roasted. Two slices of Hormel's Natural Choice rotisserie-style chicken breast deli meat contain 35 mg of cholesterol.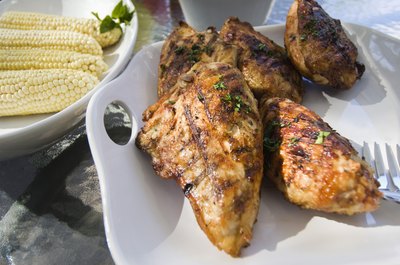 Consideration
Even though there is cholesterol in chicken, it is also an excellent source of tryptophan, a very good source of niacin and protein, and a good source of Vitamin B6, selenium and phosphorous.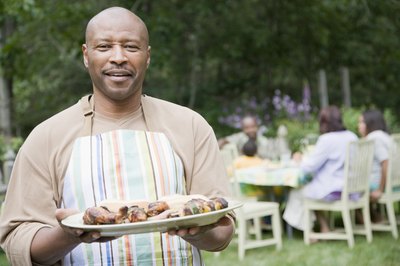 Types
Choosing organically raised or vegetarian-fed chickens ensures that you are not also consuming the hormones or antibiotics that are commonly given to factory-raised chickens. For the healthiest preparation methods, roast or grill your chicken as opposed to frying it.
Warning
Your cholesterol levels matter because dietary cholesterol is linked with an increased risk of heart disease according to the American Heart Association. The AHA estimates that in 2006 approximately 80 million people suffered from some type of cardiovascular disease, from high blood pressure to heart failure.