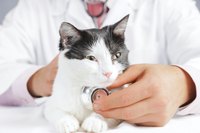 If your cat gets an infection or is wounded, your vet might prescribe clindamycin, an antibiotic approved only for animal use. Your cats symptoms should begin to improve within a few days. Finish the entire prescription even if your cat feels better. If you stop the medication early, the infection may return stronger than before.
Conditions Treated
Veterinarians might prescribe clindamycin for a cat to treat bacterial skin infections, abscesses, deep wounds and dental infections. It stops infections from bacteria such as Streptococcus and Staphylococcus strains. Clindamycin may be combined with other antibiotics to treat infections caused by multiple types of bacteria. It is also the primary medication to treat toxoplamosis, a type of infection caused by protozoa.
Dosage and Administration
Clindamycin is available in tablet and liquid form. Currently, only the liquid form of Antirobe, the brand name of the antibiotic, is approved for use in cats. The dosage for clindamycin is between 5 and 15 milligrams per pound of body weight, twice per day, as prescribed by your veterinarian. When administering oral clindamycin, wash it down with water or soft food as the medication may cause damage to the esophageal lining. Your veterinarian also might administer the antibiotic as an injection.
Side Effects
Occasionally, cats taking clindamycin will have diarrhea or vomiting. If injected, your cat might experience pain or soreness from the injection, but will not experience gastrointestinal side effects. Contact your vet if the diarrhea does not improve or becomes bloody. Allergic reactions to clindamycin are rare. However, if you see signs of an allergic reaction, such as hives or labored breathing, contact your veterinarian immediately.
Contraindications and Warnings
Pets with liver and kidney problems may require a lower dosage or a different antibiotic. Cats prescribed clindamycin for longer than one month should have liver and kidney levels checked to ensure no adverse effects from the medication. Clindamycin may interact with drugs such as cyclosporine, erythromycin and other neuromuscular blocking agents and may enhance the effects of these drugs. It is unknown whether clindamycin is safe for cats who are pregnant or nursing.