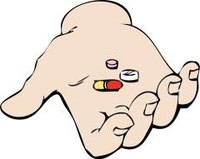 Vistaril is a prescription medication used to treat anxiety, alcohol withdrawal symptoms, itching caused by allergies and to control nausea and vomiting.
Gastrointestinal Side Effect
Common side effects of Vistaril involving the stomach and intestines are upset stomach, dry mouth or throat and constipation. Chewing gum or sucking on sugarless candy can relieve dry mouth.
Central Nervous System Side Effect
Vistaril may cause central nervous system side effects including drowsiness, dizziness and headache. Alcohol use in conjunction with Vistaril treatment can increase drowsiness.
Respiratory Side Effects
Respiratory side effects of Vistaril treatment include chest congestion and dry nasal passages. Contact your physician if these side effects become bothersome.
Serious Side Effects
Vistaril can cause serious side effects like problems breathing, muscle weakness and increased anxiety. Contact your physician as soon as possible if you experience these side effects.
Elderly People
Elderly people are more sensitive to certain Vistaril side effects such as dizziness, excessive sedation, confusion, low blood pressure and fainting. Elderly people should be monitored closely for adverse reactions.