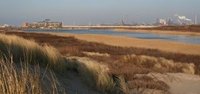 Though pollution has always been a part of the human landscape, the last 50 years have seen an explosion in industrial and urban development. With development came the use of synthetic and more toxic pollutants. Nonpoint source pollution (NSP) has worsened the effects. NSP is pollution that is dispersed through precipitation that makes it way into waterways.
Impact
According to the National Resources Defense Council, 2009 was the fourth consecutive year that beach closings have reached record numbers, totaling more than 20,000 closings.
Causes
According to a study by Yale Journal of Industrial Ecology, 70 to 80% of all environmental degradation is caused by transportation, food production, or energy production.
Considerations
Heavy metals released into the environment from past industrial and mining activities, can enter the environment and circulate for many years due to atmospheric dispersal, making cleanup difficult and costly.
Potential
Mercury, released from coal by coal-burning power plants, is the greatest source of mercury emissions in the United States according to the U.S. Environmental Protection Agency, causing toxic buildup in lakes and streams.
Warning
A Cornell University study estimates that 40% of deaths worldwide are caused by pollution, accompanied with a sharp increase in disease, setting up a scenario for continued human impact.