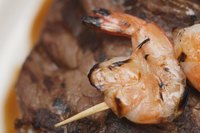 Shrimp used to be banned from cholesterol-conscious diets, but it's making a comeback to heart-healthy plates. Although shrimp is high in cholesterol, it is low in calories, total fat and saturated fat, a type of fat that plays a bigger role in raising cholesterol levels than cholesterol itself. If you've been shunning shrimp, ask your doctor about including it in your diet again. As long as you don't have certain risk factors, she'll likely give you the OK.
The Scoop on Cholesterol
Cholesterol serves several important roles in the body, but all cholesterol isn't created equal. The two types of cholesterol are low-density lipoprotein and high-density lipoprotein. LDL is the bad cholesterol that can build up in your arteries and lead to stroke and heart attack. HDL is the good cholesterol that helps rid your body of LDL. Your body makes all the cholesterol it needs, but animal foods such as meat, chicken, seafood, dairy and eggs also provide cholesterol.
Cholesterol vs. Saturated and Trans Fat
For most people, dietary cholesterol has only a small impact. Other fats in the diet have a more profound effect on cholesterol. Saturated fat and trans fats are the bigger offenders. Saturated fat is found in high amounts in fatty meats, whole milk and butter, and trans fats are found naturally in small amounts in beef and dairy fat and man-made by hydrogenating vegetable oil and added to processed foods. Consuming too much saturated fat raises LDL, and too much trans fat both raises LDL and lowers HDL.
Cholesterol and Fat in Shrimp
Shrimp has 180 milligrams of cholesterol per 3-ounce serving. The same size serving also has 1.5 grams of total fat, of which less than half a gram is saturated, and a trace of trans fat. According to the Dietary Guidelines for Americans 2010, adults should limit their cholesterol intake to 300 milligrams per day and their saturated fat intake to less than 10 percent of calories. Trans fat intake should be as low as possible. A serving of shrimp is well within these guidelines and can therefore be a healthy low-calorie source of protein in the average American's diet.
Avoid Unhealthy Preparations
Many of the traditional ways of preparing shrimp make it inappropriate for a heart-healthy diet. Battering and deep-frying it, serving it with a cream sauce or dipping it in butter will add saturated and trans fats in unhealthy amounts. For example, 3 ounces of breaded and fried shrimp has 10 grams of total fat and 2 grams of saturated fat. Instead, steam, bake or grill your shrimp and serve it mixed with a little olive oil, whole-wheat pasta and veggies, or atop a fresh green salad.
Shrimp for People With Risk Factors
Certain people may be more sensitive to cholesterol in shrimp and other dietary sources. For these people, eating high-cholesterol foods is more likely to raise their cholesterol levels, sometimes profoundly. The Harvard School of Public Health website notes that there is no way besides trial and error to know whether you are a "responder" or "nonresponder" to dietary cholesterol. If you have high cholesterol, ask your doctor how much cholesterol you can safely consume.