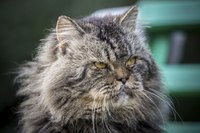 Kidney disease, also known as renal failure or kidney failure, is a degenerative condition that ultimately results in permanent kidney damage and death if not treated. It can have several causes, including the normal aging process, genetics, bacterial kidney infections and the ingestion of toxins. Fortunately, your veterinarian can suggest ways to keep your cat's kidneys working as well as they can under the circumstances.
Chronic Renal Failure
Chronic renal failure (CRF) is a type of irreversible kidney disease that occurs over months or years. It's is one of the most common diseases found in senior cats, age 7 years and older, because it is usually caused by the body's normal aging process and other progressive age-related diseases. What happens in cats with CRF is that their kidney cells die off slowly and are replaced with scar tissue. As the scar tissue builds, kidney function decreases over time. Damaged kidneys can't fully filter the toxins from your cat's body. Because CRF usually takes time to cause significant damage to the kidneys, it's mostly found in elderly cats, with 49 percent of cats over 15 years old affected by it, according to the American Association of Feline Practitioners.
Acute Renal Failure
Acute renal failure (ARF) is a type of kidney disease that occurs suddenly and severely, instead of over time. Most cases are caused by the ingestion of a toxin, such as antifreeze, heavy metals or toxic plant matter. Some human medications like nonsteroidal anti-inflammatory drugs can cause ARF. The damage to the kidneys may occur within hours or within days of ingestion. With prompt veterinary care, some cases of ARF can be reversed -- unlike with CRF, which is always permanent. When the damage is extensive, ARF will eventually progress to CRF, usually. If it does, your kitty will need lifelong care, including subcutaneous fluids and a special renal diet, to keep her kidneys functioning.
Genetic Causes of CRF
Some cat breeds are prone to developing polycystic kidney disease (PKD), a genetic condition that can lead to chronic renal failure. Breeds most affected include Persians, British shorthairs and Himalayans, according to the Cornell University College of Veterinary Medicine. Over time, PKD causes cysts to form in the kidneys, impairing their function. Meanwhile, a condition called amyloidosis can cause renal failure due to buildup of destructive proteins in the kidneys. This genetic condition is most common in Abyssinian and Siamese cats. There are no cures for these progressive diseases.
Other Causes of Renal Failure
Many things can damage your cat's kidneys, causing CRF or ARF, depending on how quickly and severely the damage occurs. Bacteria from urinary tract infections and feline dental disease can travel to your cat's kidneys and infect them, causing them to fail, according to the Cat Hospital of Chicago. Conditions like hypertension, diabetes and hyperthyroidism can damage your cat's kidneys because they affect the blood flow and blood vessels of the kidneys. Blockages of the urinary tract can damage the kidneys because they stop the flow of urine to them. Cancer and chronic stress can lead to kidney disease in cats, as can medications for cats that are given over a long period of time or in higher dosage than prescribed.
Diagnosis and Treatment
If you notice that your cat has become less active than usual or drinks a lot of water, get her to the vet. Kidney disease could be the cause. Your vet may even diagnose kidney disease during her annual exam before symptoms occur, especially if she's a senior kitty. To catch conditions like kidney disease, the American Association of Feline Practitioners recommends that you let your vet perform blood and urine tests during annual exams for cats older than 7 years old. Only through these tests can your vet determine if your kitty is suffering from renal failure and then develop a treatment plan for it.