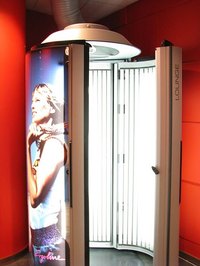 Stand up tanning beds are also called tanning booths, because they are similar to a phone booth, except slightly larger and usually round. Indoor tanning booths and beds are popular because you can achieve a tan quickly--in as little as 10 minutes just a few times a week.
The Booth
Tanning booths use stronger UV light bulbs than lay down tanning beds so you can tan more quickly. The booth is circular with approximately 30 to 60 UV tubular bulbs surrounding you. Clear plexiglass covers the bulbs.
Setting the Timer
When you tan in a stand up tanning booth, you can either wear a swimsuit or go nude. Your tanning booth is in a private room. A technician will set a timer at the front desk, and your booth will turn off automatically so you don't stay in too long and burn.
Standing in the Booth
You will wear protective eyewear in the tanning booth. Once inside the booth you stand in the center. There are handrails to hold onto if you want. You can elevate your arms to get your armpits and sides tan. Most tanning booths have a radio and a cooling fan. Other tanning booths have a misting fan and aromatherapy.
Advantages
The advantage of standing up to tan is you get a more even tan. When you lay down to tan, in a tanning bed, your sides do not tan. In addition, you may develop pressure points or areas of tanner skin like on your buttocks that presses on the glass. Standing up eliminates pressure points. Most tanners will alternate standing up to tan, and on their next visit use a lay down bed.
More Sanitary
Standup tanning beds are more sanitary than lay down beds because you do not have to touch any surface with your body.