Clostridium refers to a collection of more than 100 types of bacteria. Among these bacteria are Clostridium botulinum which causes botulism, a rare and dangerous form of food poisoning affecting humans. Unfortunately, two other forms of clostridium are more common and can be dangerous for dogs. These two types are clostridium difficile and clostridium perfringens. If left untreated, the illnesses caused by these bacteria can be dangerous to your dog's health.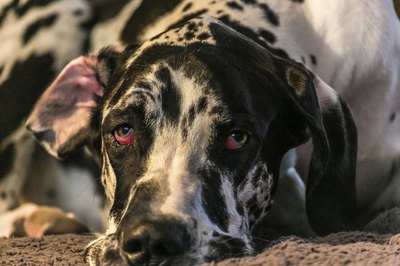 Clostridium Difficile: Infection & Symptoms
C. difficile rarely causes problems for dogs, although sometimes the bacterium can live in the dogs' intestines and may be shed in their feces. Researchers do not know whether humans can contract C. difficile from dogs or their feces, but the same strain of the bacteria has been found in pets and their owners. In dogs, this bacterium usually only causes mild cases of diarrhea.
Clostridium Difficile: Diagnosis & Treatment
The only way to diagnose a C. difficile infection is by testing the dog's stool. The bacteria release toxins that cause the infection, so the veterinarian must test the stool for the presence of these toxins. Since healthy animals can still shed the bacteria, the doctor must look for the toxins to diagnose the infection. Even if a dog is diagnosed with a C. difficile infection, treatment may not require any further medical care. If the diarrhea is severe, steps may need to be taken to prevent dehydration. Otherwise, most dogs recover fine from the infection. Owners, however, should take precautions, such as vigorous hand washing and limited contact with the dog's stool.
Clostridium Perfringens: Infection & Symptoms
The C. perfringens bacterium already exists in the intestines of many dogs. However, if the bacteria begin overproducing or if the bacteria are introduced through the consumption of bad meat or vegetation, then they can cause enterotoxicosis. Diarrhea is the primary symptom of this condition, but the watery stool will also be covered in shiny mucus and may also include small amounts of blood. Dogs may also need to defecate more, have a harder time defecating and experience abdominal discomfort as a result of the illness. In chronic cases, the bouts of diarrhea return every two to four weeks.
Clostridium Perfringens: Diagnosis & Treatment
A stool sample from the dog is needed to diagnose C. perfringens. Preferably, the stool sample should be only a few hours old. The veterinarian will need to test the stool for the presence of toxins produced by the bacteria and may also test for the presence of a specific gene in the bacteria responsible for toxin production. The tests can take up to 48 hours to complete. Typically, acute cases of the infection can be treated with a course of antibiotics. Some dogs may need additional medical support if the diarrhea has caused dehydration. Dogs who have chronic cases of enterotoxicosis may need to switch to a high-fiber diet to reduce the reproduction of C. perfringens bacteria in their intestines.