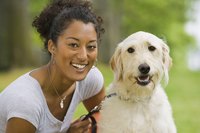 Vitamin B12, also called cyanocobalamin, is a water soluble vitamin that is involved in forming the dog's blood. It is also involved in supporting the dog's nervous system. Vitamin B12 is one of the B complex vitamins, along with vitamins B1, B2, B5, B6, niacin, folic acid and biotin. Unlike most water soluble vitamins, vitamin B12 is stored by the dog's body.
Vitamin B12 and Its Role
Vitamin B12 is a vital part of hematopoiesis, the process of forming blood cells, which takes place in the bone marrow. A B12 deficiency causes macrocytic anemia. Dogs with macrocytic anemia form fewer red blood cells; however, those red blood cells are larger than normal red blood cells. In addition to blood cell formation, vitamin B12 is vital to growth, cell reproduction and the formation of the nerve coating, myelin.
B12 Deficiency Causes
Vitamin B12 deficiency is a genetic disease. Some breeds of dogs are prone to a genetic abnormality that prevents B12 from being absorbed in the lower intestine. A B12 deficiency is not a primary disease; rather, it is a secondary disease that occurs because the lower intestine lacks the specific receptor required to bind cobalamin. At times, a dog may fail to absorb vitamin B12 due to a gastrointestinal parasite.
Signs and Symptoms
Macrocystic anemia is the primary sign of vitamin B12 deficiency in a dog. In some dogs, the number of white blood cells may be reduced (neutropenia), as well. Some symptoms associated with vitamin B12 malabsorption include the lack of desire to eat, fatigue and the inability to gain weight. In extremely severe cases of vitamin B12 deficiency, loss of the myelin layer on the nerves and nerve degeneration may occur. If you think your dog is exhibiting these symptoms, a trip to your vet is in order.
B12 Supplementation
Most organ meats contain vitamin B12. It is also present in fish, eggs and cheese. When dogs are unable to obtain vitamin B12 from their food, your vet will provide a supplement. Vitamin B12 is available in several forms:
Oral tablets: cyanocobalamin 100, 250, 500, 1,000 and 5,000 microgram tablets; cyanocobalamin crystalline 500 and 1,000 microgram tablets
Intranasal gel: 500 microgram/0.1 mL in 5 mL bottles
Injection: canocobalamin crystalline 100 microgram/mL (30 mL vial), 1,000 microgram/mL (10 and 30 mL vials); hydroxocobalamin crystalline 1,000 microgram/mL (30 mL vial)
Depending on the cause, oral treatment of vitamin B12 deficiency might be ineffective. In such cases the nasal or injectable forms of the vitamin are more suitable.