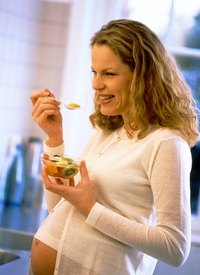 More than half of pregnant women get morning sickness. This pregnancy illness can happen in the morning or at night. Morning sickness is described as a nauseated feeling or vomiting. The cause of morning sickness is an increase of the hormones in the body. There are home remedies that claim to cure morning sickness. Some women go their whole pregnancy without experiencing this illness.
Signs
Most women will wake up around the fifth or sixth week of pregnancy and feel very nauseated, or they will vomit. This is one of the first signs of pregnancy.
Time
Morning sickness can last throughout the full pregnancy. However, most women only have morning sickness for no longer than two months.
Help
The best help you can give yourself is to nibble on a few saltine crackers, or salty potato chips, when you first wake up---before you step out of bed. Don't skip any meals. Eat smaller meals frequently throughout the day instead of two or three large meals.
Problems
Morning sickness is not harmful to your or your baby. In fact, many doctors will claim that getting sick is a sign that the baby is doing well. However, if your vomiting becomes severe, you may have developed hyperemesis gravidarum. This disorder should be treated by a doctor immediately.
Other Advice
Vitamin B-6 and peppermint tea can be taken to cure the symptoms of morning sickness. There are also special suckers on the market called Preggie Pops that are formulated to cure nausea.