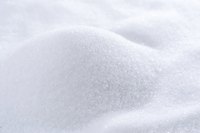 The average American consumes way too much sugar, according the the American Heart Association. One way to satiate your sweet tooth without the empty calories is to replace sugar with a sweetener such as stevia or sucralose. Both products are basically safe and can be used in home cooking and baking. Enjoy stevia and sucralose-sweetened goodies as an occasional treat.
Nutrition Facts
The leaves of the stevia rebaudiana plant contain compounds that are refined to produce granulated or liquid sweeteners much sweeter than sugar. At high concentrations, however, the extracts have a bitter aftertaste. By contrast, sucralose begins as table sugar. Manufacturers modify the molecular structure of the sugar, yielding a product 600 times sweeter than sugar. Both stevia and sucralose pass through the body undigested, which is why they are considered zero-calorie sweeteners.
Health Concerns
The University of Nebraska Lincoln reports that sucralose has been tested in over 100 studies over 20 years. It's safe for pregnant women and children and is not associated with birth defects. Additionally, sucralose does not raise blood sugar levels and thus is an option for diabetics. The safety of stevia is a little more complicated. In 2008, the U.S. Food and Drug Administration categorized a highly refined form of stevia -- rebaudioside A -- as generally recognized as safe, or GRAS. The refined form of stevia does not cause dental caries and is safe for diabetics and people with phenylketonuria. However, unrefined stevia products might not be safe.
Using Sweeteners
Stevia works well as a sweetener for semisolid foods such as yogurt, fruit sauce and beverages. Start with a drop or two of liquid extract and gradually increase to your desired sweetness. Adding too much will make the food bitter. Baking with stevia is tricky as it lacks all the properties of sugar such as the ability to feed yeast and give body to cakes and cookies. Use recipes written for stevia and follow the directions exactly. Sucralose dissolves easily in soft foods and beverages and does not have an aftertaste. Although sucralose lacks many of the properties of sugar, it bakes well because it has a very stable structure. The University of Nebraska Lincoln recommends substituting sucralose for half of the sugar in baked goods.
Moderation in Everything
With every aspect of healthy living, moderation is key, and the use of sweeteners is no exception. Sucralose and stevia provide a way to enjoy sweet treats and beverages without too much guilt, but you shouldn't go overboard. Sugar-free cookies, cakes, candies and frothy coffee drinks are essentially empty calories. It's much better to satiate your sweet tooth with nutrient-rich fruit.