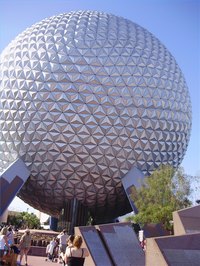 Step inside that iconic silver golf ball, Spaceship Earth, at Epcot and you'll be transported back in time 40,000 years ago. The Siemens-sponsored ride celebrates the history of communication, beginning with hieroglyphics from ancient Egyptians to present-day video calls made round the world.
Facts
Spaceship Earth is located inside the Epcot theme park at Walt Disney World Resort in Orlando, Florida. Epcot covers 300 acres and is twice the size of the Magic Kingdom.

History
Ray Bradbury, the science fiction author, helped design Spaceship Earth and wrote the original story for the attraction in 1982 when it first opened. Narrator Dame Judy Dench informs passengers how each generation helped the next in their quest for better communication. Composer and Emmy award winner Bruce Broughton created the 24 vocal musical score with a 63-piece orchestra.

Features
Travel the 16-minute ride through time and space and see how humans made significant progress through paper, books, newspaper, radio, telephones and computers. Once the ride is over, visit Project Tomorrow, an interactive playground that encourages you to explore fun games and learn about technology in transportation, medicine and energy management.

Size
Spaceship earth is a 180-foot-tall geodesic sphere. Four passengers can ride in the time machine: two in front, two in back.

Fun Fact
Time machine rides have touch-screen computers which allow you to literally see yourself living, working and playing in the future. Make sure to visit Project Tomorrow so you can email yourself a copy of the photo.