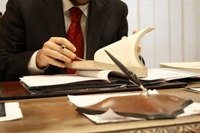 A dress code in the workplace gives employees specific information about the clothes that are acceptable and those that are prohibited. Among the many advantages, having a clearly defined dress code keeps people safe and gives an air of professionalism to an organization. If you are unsure as to whether your workplace has a dress code, contact your human resources department.
Safety
Dress codes are often necessary to keep people safe in the workplace if they are using equipment or working with chemicals. Dress codes may mandate that employees wear uniforms or personal protective equipment such as gloves or eye-protection.
Professionalism
When professional attire is a must, workplace dress codes come in handy. Having a dress code allows employees to understand what is acceptable business attire, whether they need to wear business suits and what constitutes business casual attire.
Team
Employees may feel that they are part of the overall company team if they follow a dress code as there is a consistency in the way people dress. Employees may still maintain their own style but know the parameters in which they must fit as far as workplace attire goes.
Morale
Morale may be raised in a company where people follow a dress code. Employees know what is expected and can dress accordingly. People tend to act in a professional manner when they dress the part. This raises the image of the company and morale rises as a result.
Respect
It is easier to have respect for co-workers who dress professionally as opposed to co-workers who look sloppy by taking casual dress a bit too far.