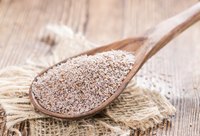 Psyllium husks come from tiny seeds produced by plants in the Plantago, or psyllium, family. The husks are packed with fiber and contain an especially high concentration of soluble fiber. Psyllium's health benefits are due to its soluble fiber, which prevents and relieves constipation, helps lower cholesterol and may relieve symptoms of irritable bowel syndrome.
Relieve or Prevent Constipation
As psyllium travels through the digestive tract, it absorbs water and swells, which adds bulk and moisture to stool. The extra size and weight stimulates muscles that push stool through the intestine, while the moisture makes stool softer and easier to eliminate. Psyllium is one of the safest types of laxatives, reports FamilyDoctor.org.
Psyllium laxatives contain 3 to 6 grams of fiber per dose, reports the University of Michigan. If you take psyllium, drink plenty of noncaffeine fluids to prevent the fiber from obstructing your throat or bowel. Increase your intake gradually to avoid side effects such as diarrhea and gas.
Promote Heart Health
Soluble fiber helps reduce the amount of cholesterol and other fats in your bloodstream. Psyllium is such a rich source of soluble fiber that the U.S. Food and Drug Administration allows psyllium-containing products to carry a health claim stating it may reduce your risk of heart disease as long as it's part of a diet low in cholesterol and saturated fat.
Several studies reviewed in the journal Nutrients in May 2013 found that psyllium lowered blood levels of total cholesterol and low-density lipoproteins, known as bad cholesterol. It may also help lower levels of triglycerides, according to a study published in the American Journal of Clinical Nutrition in April 2007.
Treat Bowel Disorders
In addition to keeping your digestive tract regular, psyllium may help treat irritable bowel syndrome and diverticulitis -- an inflammation in the wall of the large intestine. When patients with irritable bowel syndrome took psyllium, their symptoms improved more significantly than study participants who took bran or a placebo, according to a study published in the British Medical Journal in August 2009.
People with a history of diverticulitis may prevent future flare-ups by eating a high-fiber diet and taking psyllium, reports the University of Maryland Medical Center.
Colon Cleansing Considerations
Colon-cleansing regimens sometimes suggest using psyllium. While its potent laxative effect will ensure waste elimination, research to date does not support other detoxifying benefits. Overuse of psyllium may impair bowel function, cause dehydration or create an imbalance of electrolytes such as sodium and potassium.
If you experience abdominal pain, nausea or vomiting, stop taking psyllium and consult your health care provider. You should also talk to your doctor before using psyllium if you take prescription medications. It can interact with medications used to treat depression, seizures, heart conditions, diabetes and high cholesterol, reports the University of Maryland Medical Center.