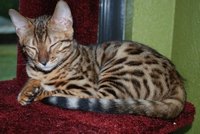 If your cat has chronic constipation or megacolon, your veterinarian might prescribe cisapride. Cisapride will help regulate your pet's digestive system by speeding up the time it takes to empty the stomach.
Function
Cisapride helps alleviate constipation by stimulating elimination through increasing gastroesophageal sphincter pressure.
Types Of Cisapride And Dosage
Follow the instructions provided by your veterinarian closely. Cisapride can be in tablet form or a liquid and is usually prescribed in doses between 0.1 and 0.5mg per 2.2 lbs. of weight every 8 to 12 hours. Be consistent with the times you give the medication to your cat, and be careful not to overdose.
Storage
You can store cisapride in a cool, dry cabinet. Be sure to keep the medicine out of direct sunlight and beyond the reach of children.
Side Effects
The most common side effects of cisapride are abdominal pain and diarrhea. If your cat exhibits these symptoms, you should consult your veterinarian to be safe.
Prescription Required
In the United States, you must have a prescription from your veterinarian to buy cisapride.