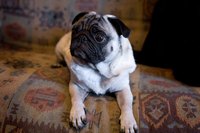 Breeding a dog is not a decision to be taken lightly. Whether the dog is male or female, breeding at 1 year old is too young. Dogs have not fully matured mentally or physically and are too young to test for hereditary diseases.
Considerations
The Humane Society of the United States estimates that three to four million dogs and cats are euthanized at taxpayer expense annually. Responsible breeders know they will have committed buyers for the litter before they breed their dog.
Mental Maturity
Dogs are still puppies at 1 year old and not mentally mature. Temperament is often inherited, and only temperamentally sound dogs should be bred. A young dog may not care for her puppies properly.
Physical Maturity
Dogs are often not physically mature at 1 year old. In larger dogs, their growth plates and bone development are incomplete. This can lead to problem pregnancies.
Health and Genetic Testing
Hereditary conditions like hip and elbow dysplasia are common in dogs. Since joint development is not complete until about 2 years old, dogs cannot be tested until then. There are many breed-specific health tests that you should have done before allowing your dog to breed.
Ideal Age for Breeding
You should not breed your dog until he is mentally and physically mature, which is usually around the age of 2.