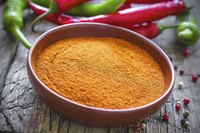 Cayenne pepper can do a lot more than spice up your favorite recipe. Its red, yellow or orange colors come from antioxidants called carotenoids and flavonoids. The main active ingredient in cayenne pepper, capsaicin, is responsible for its spicy flavor. Adding this powerful spice to your meal could help alleviate digestive issues and potentially aid in weight loss and blood pressure control.
Blood Pressure Benefits
The capsaicin in cayenne peppers could help reduce your blood pressure, according to a study published in "Cell Press" in 2009. In this animal study, long-term consumption of chili peppers helped reduce blood pressure by helping blood vessel walls to relax. Research has yet to determine if humans enjoy the same benefits. The researchers also noted that in areas of China where people eat foods with a lot of chili peppers, there are significantly lower rates of heart disease.
Improve Indigestion
Ingesting cayenne pepper powder could help you deal with indigestion, according to a study published in the "Alimentary Pharmacology & Therapeutics" in 2002. The researchers investigated the effects of cayenne pepper on indigestion by giving participants red pepper powder before a meal. Upper abdominal pain and nausea were significantly reduced in the participants who received the red pepper. The researchers suggested the capsaicin in cayenne pepper helped desensitize pain receptors, which improved symptoms.
Boost Weight-Loss Efforts
A study published in "Clinical Nutrition" in 2009 investigated the effects of combining capsaicin, green tea and sweet pepper on appetite and fullness. The results showed that capsaicin and green tea are most effective in decreasing hunger and promoting fullness, when the participants followed a lower-calorie diet. In 2009, a study published in the "European Journal of Nutrition" looked at the effects of capsaicin and found that it didn't increase fullness but decreased the hunger hormone called ghrelin. Therefore, the capsaicin in cayenne pepper may help you lose weight and may be more effective when combined with green tea.
Possible Side Effects
Cayenne pepper capsules may cause stomach aches and heartburn and exacerbate stomach ulcers, according to the University of Maryland Medical Center. People who are allergic to latex or certain foods -- kiwi, avocado, bananas and chestnuts -- may also be allergic to cayenne peppers, so should avoid consuming it. It's probably okay for pregnant women to eat cayenne in food, but should avoid cayenne supplements. Breast-feeding women should avoid all cayenne, both food and supplements, because it passes into breast milk.
In 2012, the "International Journal of Emergency Medicine" published a report of a young man who suffered a heart attack after using cayenne pepper pills as a weight-loss supplement. Although an isolated case, it indicates the importance of consulting a doctor before using any cayenne pepper supplement.