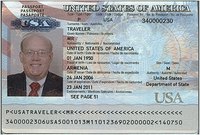 The United States fully implemented the Western Hemisphere Travel Initiative in June 2009. This initiative means that all citizens of the United States, Canada and Bermuda must have a valid passport to enter or re-enter the U.S. Many travelers now have questions about what is required when getting a U.S. passport.
Application
A completed application, form DS-11, is required. It can be downloaded from the U.S. Department of State or picked up at most U.S. post offices.
Proof of Citizenship
A certified copy of their birth certificate must be presented at the time of application. If you do not have a certified copy, order a copy from the Department of Vital Records in the state in which you were born. This copy will be attached to your application, but the U.S. Department of State will return the certificate after you have received your passport. Citizenship documentation also includes an old, undamaged passport, naturalization certificate and Certificate of Citizenship.
Photo Identification
A valid photo ID, such as a driver's license or government-issued photo ID, also must be presented at the time of application. A photocopy of the front and back of the ID on one side of an 8 1/2-by-11 inch sheet of paper is required. The passport acceptance facility or passport agency will not make photocopies.
Passport Photographs
Two identical 2-by-2 inch color passport photos must be submitted. You must wear normal street clothes. Hats and sunglasses are prohibited in the photos. Supportive devices of any kind are prohibited in the photos of newborns and infants.
Passport Fees
As of September 2009, the passport fee for an adult is $75. For children, the fee is $60. An additional processing fee of $25 will be charged for adults and children. This processing fee must be paid by separate check. Processing time averages four to six weeks.