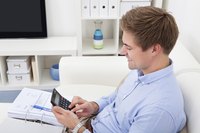 You work hard at your job, so it can be painful to part with a percentage of the money you've earned at tax time. But the Internal Revenue Service can limit your liability. Tax law allows you to take deductions for some expenses and costs associated with making a living. If you spend money to earn money, you won't have to pay taxes on those expenses.
Miscellaneous Itemized Deductions
Work-related expenses fall into the category of miscellaneous itemized deductions. You must itemize on your tax return to claim them, which means giving up the standard deduction -- you can't take that and itemize deductions, too. Itemizing is generally only worthwhile if all your deductions -- not just work-related ones -- add up to more than the standard deduction you'd otherwise be entitled to. Other possible itemized deductions include home mortgage interest and other taxes you paid during the year. If you decide to itemize, you can complete Schedule A, listing all your deductions, and file it with your tax return.
General Requirements
A work-related expense must be "ordinary and necessary" to qualify as a tax deduction. Ordinary means that anyone else in your line of work would be expected to make the same expenditure. Necessary means you couldn't do your job well without spending the money. W-2 employees must meet one additional rule -- expenses aren't deductible if your employer reimburses you for them. So if you need a particular app for your smartphone so you can do business in the field, the cost is deductible as long as your employer doesn't pay you back for it and others in your line of work require the assistance that app offers. You could lose the deduction if it's your company's policy to reimburse employees but you don't put in a claim for the money.
Deductible Expenses
You can deduct clothing and uniforms you must wear while working, as long as you wouldn't wear them outside of the job. The cost of a three-piece suit wouldn't be deductible, but a nurse's uniform would be. Tools, equipment, training, subscriptions, professional dues and union dues are all tax deductible. So are some travel and entertainment expenses. The IRS publishes a full list of work-related deductions online. Whatever the expense, it's always a good idea to keep receipts to show that you did indeed spend the money.
Job-Hunting Expenses
The IRS lets you deduct costs associated with finding a new job if you're out of work. These might include fees you pay to an employment agency, the cost to have a resume prepared and the postage to send it to prospective employers. Travel and transportation costs are deductible as well. However, some rules apply. The job you seek must be in the same field as your old one and you can't be hunting for your first job. You also can't let too much time pass between leaving one job and looking for a new one.
The 2-Percent Rule
Unfortunately, you can't deduct 100 percent of your work-related expenses. These miscellaneous deductions are subject to the 2-percent rule -- you can only deduct the portion that exceeds 2 percent of your adjusted gross income. Your AGI appears on line 38 on the first page of Form 1040. If your AGI is $55,000, you can deduct work-related expenses that exceed $1,100, or 2 percent. If you have $2,000 in deductible expenses under that scenario, you can claim a deduction for $900.