Dogs chew bones as a way to relax, decrease stress and soothe irritated gums. Having bones on hand for your pup can keep him occupied and help improve his dental hygiene. Bones can distract your dog from other behaviors you're trying to discourage as well, making them valuable training tools.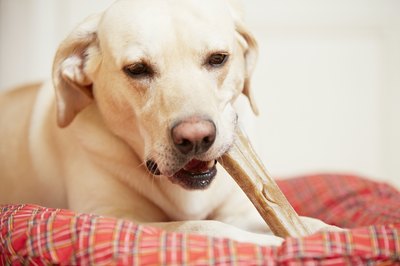 Nutritional Value
Bones taste good, and provide some nutritional value for your dog. Some commercially produced specialty bones are coated with flavorings to make them more enticing and to provide variety for your pup. Some have added vitamins and minerals -- for example, rawhides formulated for senior dogs contain coatings of chondroitin and glucosamine to help improve joint function and mobility.
Self-Soothing
Chewing is a natural soothing activity for dogs. For example, giving your dog a bone to chew when you have company or you're trying to distract him from begging at a family meal can keep him happy and busy. Providing bones in stressful situations -- such as the vet's office or a car trip -- can give him something else to focus on and keep him calm.
Dental Health
Chewing on bones can help reduce the potential for canine periodontal disease. Bones help remove plaque and tartar buildup, stimulate gum tissue and keep jaws strong. Teething puppies also benefit from bone chewing because it eases the pain of erupting teeth. For best overall dental health, brush your dog's teeth daily with a canine-specific toothpaste and take him for regular dental checkups.
Bone Selection
Give your dog a variety of bone options to see which ones he enjoys the most. Rawhide and natural marrow bones typically are chewed and slowly consumed. Durable bones, such as those made from nylon or rubber, may be more suitable for aggressive chewers. These chews eventually will start to fall apart, though, so keep an eye on their condition and replace them when they reach a size that could cause choking.
Things to Watch For
Not all bones are created equal; certain precautions should be taken to ensure they don't become a danger for your dog. Pups should not be given small bones or bone pieces that could become lodged in their throats. Bones made of rawhide can become contaminated. Discard bones and seek vet attention if your dogs exhibits any sign of gastrointestinal upset, abdominal pain, lethargy or fever.