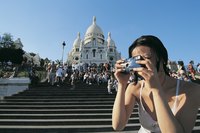 Paris' undeniable charm, beauty, rich history and vivid culture make it one of the most attractive tourist destinations. It's no wonder that the City of Love nearly always tops the list of most visited cities in the world. Additionally, Paris is one of Europe's most important and sophisticated economic centers, attracting both national and international business travel.
Combien de Visiteurs?
While tourism to Paris is highly dependent on the world's economic well-being, the city sees just fewer than 30 million visitors each year. Some 39 percent of these visits are business-related; the rest of the 30 million visitors are international and regional tourists. To put this in perspective, imagine that nearly every resident of Canada visited Paris in the span of one year.