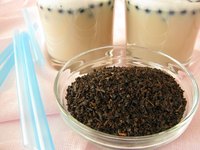 Filled with black tapioca pearls, black or green tea, milk, sugar and flavoring, pearl milk tea, also known as bubble tea, is a trendy drink that originated in Taiwan. While the tea may be sweet and fun to drink, it can add a lot of calories and unhealthy fat to your diet if you're not careful.
High-Calorie Drink
The calories in a cup of pearl milk tea may vary depending on where you get your tea. In general, a 16-ounce cup of tea contains about 330 calories. Ask to have your tea made with nonfat milk or low-calorie plant-based milk such as soy or almond milk, if available, to help lower the calories in your drink.
Also, while they might be part of the appeal of the drink, the tapioca pearls add at least 100 calories to your drink, according to CHealth, so if you can skip them or ask your drink maker to add half the amount, you might be able to save a few calories.
Watch That Fat
The type of milk you add to your pearl milk tea can also affect fat content. The amount of fat in a 16-ounce cup ranges from 4 grams of total fat to 10 grams.
Some brands of pearl milk tea might even contain trans fat, the most harmful type of fat that not only raises bad cholesterol but lowers good cholesterol. The American Heart Association recommends you limit your intake of trans fat as much as possible to protect heart health.
Carbs and Protein
While pearl milk tea may contain a varying amount of fat, most of the calories in the drink come from its carb content. One serving contains 56 grams to 75 grams of carbs, 29 grams to 36 grams of sugar and 2 grams to 4 grams of protein.
Some of the sugar in the drink may be due to the natural sugar in milk, but pearl milk tea also contains added sugar. As a source of calcium and protein, milk offers nutritional value to the tea, but the added sugar does not. The 2010 Dietary Guidelines for Americans says that cutting back on the amount of added sugar in your diet may be helpful in reducing calorie intake for better weight management.
A Little Calcium
Pearl milk may help you get a little more calcium in your diet. The amount may vary depending on what kind of milk the bubble tea maker uses. Adding a 1/2-cup serving of nonfat milk or fortified soy milk adds 150 milligrams of calcium. Adults need 1,000 milligrams to 1,200 milligrams of calcium a day.
The Dietary Guidelines for Americans lists calcium as a nutrient of concern, which means some groups of people, including women and children, may not be meeting their daily calcium needs. In addition to keeping your bones healthy and strong, you also need calcium for nerve transmission and blood vessel function.