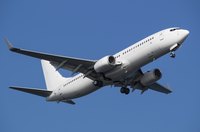 When flying the friendly skies with Southwest, you'll either be riding in a Boeing 737 or a Boeing 717. As of the time of publication, Southwest operates almost 700 jets, the majority of which are Boeing 737.
Boeing 737
Boeing refers to the 737 family as "short-to-medium-range" planes. Southwest has more than 600 of these in its fleet, including 425 Next-Generation 737-700s and 52 737-800s. These Next-Generation airplanes were designed with bigger wings to increase fuel efficiency, allowing the planes to fly farther and higher. They also have redesigned engines and larger overhead bins.
Boeing 717
If your Southwest Airlines flight is a brief one, you might find yourself on a Boeing 717-200. Boeing created these planes to cover short distances with fewer passengers. They contain 117 seats on Southwest's planes.