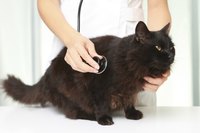 If you cat is diagnosed with intestinal lymphoma, also known as alimentary lymphoma, the two of you have a long fight ahead. Your cat's prognosis depends on the type of intestinal lymphoma. If your cat displays any signs of gastrointestinal difficulties, bring him to the vet as soon as possible. Don't panic; he doesn't necessarily have intestinal lymphoma. Some symptoms mimic other, less serious diseases.
Feline Alimentary Lymphoma
While lymphoma can affect various part of the cat's body through the lymphatic system, the disease most often invades the gastrointestinal tract. That wasn't always the case. In the era before the development of the feline leukemia virus vaccine, FeLV was the cause of most lymphomas in cats. Intestinal lymphoma affects the large and small intestine and the stomach, with the small intestine the most likely site for tumors. A cat might develop a single tumor, or several growths.
Intestinal Lymphoma Symptoms
Intestinal lymphoma generally affects older felines, those 9 years of age and up. Common symptoms include lethargy, appetite and weight loss, possibly accompanied by vomiting and diarrhea. The vomit might or might not include blood. Cats living in homes where the inhabitants smoke are more likely to develop intestinal lymphoma.
Diagnosis and Treatment
Your veterinarian will conduct a physical examination on your cat, trying to find and palpate any abdominal mass. A complete blood count, urinalysis and blood chemistry are necessary. X-rays and ultrasound can pinpoint the location of tumors. For a definitive diagnosis, she'll perform a biopsy, done either via endoscope or through abdominal surgery. A tissue sample reveals whether your cat suffers from a low-grade or high-grade lymphoma. The difference involves how fast cells divide and the degree of malignancy. Standard treatment for either type consists primarily of chemotherapy, although some cats might undergo surgery to remove an especially large mass or radiation therapy.
Intestinal Lymphoma Prognosis
Feline intestinal lymphoma isn't curable, although treatment can extend your cat's life. Cats diagnosed with low-grade lymphoma usually live longer than those with the high-grade type. If receiving chemotherapy, cats with low-grade lymphoma might live two years or longer, while those with high-grade disease often live less than three months. Your cat likely will undergo regular chemo sessions for the rest of his life.