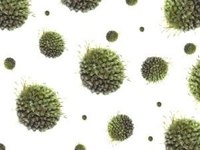 Bacteria, viruses, parasites, toxins---all these can cause food poisoning. Food poisoning is often the result of improper food handling and storage. For instance, a person may infect others at a potluck party by preparing and bringing food that wasn't cooked long enough to kill the bacteria in meat products. People especially vulnerable to food poisoning are the very young, the old and those with existing medical problems like diabetes or a compromised immune systems. Some food poisoning cases can be very serious and even fatal.
No Solids or Dairy
Diarrhea is a common symptom of food poisoning. Avoid dairy foods, since they can make diarrhea worse. Don't eat solid foods until the diarrhea has passed.
Drink Fluids
Vomiting and diarrhea can dehydrate you, so it's important to take in fluids to replace the loss. Do not drink dairy products or caffeinated liquids. Instead, drink water and electrolyte replacement and oral rehydration drinks.
IV Fluid
If you are too sick to drink or you vomit when you try, you might need to receive fluids intravenously at a medical facility.
Toxins Demand Medical Intervention
For toxins ingested with mushrooms or shellfish, you will need to go to the emergency room so a doctor can empty your stomach. If you have botulism, you will need an antitoxin.
Antibiotics
Most of the common causes of food poisoning go away by themselves after a few days. Occasionally, a case caused by bacteria will require antibiotics to fight it.
Diphyllobothriasis
Diphyllobothriasis means you have gotten a tapeworm from eating raw or undercooked fish. Left untreated, the parasite can grow to 30 feet. The condition requires a single treatment of medicine.