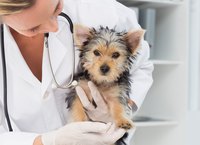 If your dog comes down with a campylobacter infection, also know as campylobacteriosis, he's suffering from some serious diarrhea. That's the primary symptom of this infection, but not the sole one. Take your dog to the veterinarian, along with a fresh fecal sample, for a definite diagnosis. Unfortunately, campylobacterosis can take some time to clear up. In affected dogs, symptoms tend to come and go.
Campylobacteriosis in Dogs
While any dog can contract campylobacteriosis, it's most common in puppies younger than the age of 6 months. Many dogs -- nearly half of all domestic canines -- carry campylobacter in their gastrointestinal symptoms to no ill effect. Once the bacteria enters the system, it produces a toxin that damages the intestinal lining.
While diarrhea -- either full of mucus or watery -- is the main symptom, dogs might also experience appetite loss, fever, vomiting and abdominal pain. Some dogs might strain to defecate, while others exhibit lymph node swelling. The initial diarrhea outbreak might last about a week, and your dog may appear better. However, it eventually starts in again, making it appear that your dog is suffering from chronic, off-on loose bowels.
Campylobacter Transmission
Although there are various ways in which campylobacter is transmitted to canines, the primary method is via consuming undercooked poultry, according to the Merck Veterinary Manual. Because people also are vulnerable to the bacteria, it's likely the dog and his owners are both coping with bouts of diarrhea. Other foods eaten by humans and possibly given to pets that commonly transfer campylobacter are milk, fish, pork and beef. Other means of transmission include drinking infected water or contact with infected feces. Your dog can pick up campylobacter from eating an infected bird or rodent as well.
Campylobacter Diagnosis
When looking at the fecal sample, your vet looks for a curving organism under her microscope -- campylobacter bacteria is shaped somewhat like a seagull. To get a more accurate picture, she might culture the sample. Even if the test is positive, that doesn't necessarily mean campylobacter is the culprit, because it's so common in dogs. Your vet will consider your dog's symptoms to make a diagnosis.
Campylobacter Treatment
Unfortunately, many antibiotics are ineffective against campylobacteriosis. Your vet might prescribe erythromycin or tetracycline or fluoroquinolones to combat the infection. These drugs don't completely eradicate the bacteria, but they do reduce the amount your dog excretes in his feces. You must take care when picking up and disposing of feces, and if your dog has a run or defecates in a fenced-in yard, get rid of the droppings immediately. Wash his bedding regularly. You also must ensure that your dog doesn't become dehydrated from the diarrhea. Your vet can give him intravenous fluids if that's a problem.