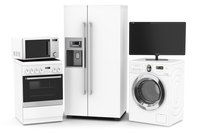 GoldStar -- which would later become LG Electronics -- originally started in 1947 as the Lak-Hui Chemical Industrial Corporation, which was the first Korean plastics company. In 1958, Lak-Hui launched GoldStar Co. Ltd. and merged the two companies into Lucky GoldStar. In 1995, Lucky GoldStar was renamed LG Electronics with the company motto "Life's good."
LG Electronics
In 1959, GoldStar manufactured the first radio produced in South Korea and gave birth to the electronics industry in that country. Over its next 10 years, GoldStar also became the first South Korean company to manufacture TVs and home appliances. By 1978, the GoldStar brand had over $100 million in sales worldwide and by 1982 it had opened a production facility in the United States. In 1995, GoldStar acquired Zenith TV and changed its name to LG Electronics.
LG Electronics is made up of five business units: Home Entertainment, Mobile Communications, Home Appliances, Air Conditioning and Energy Solutions, and Vehicle Components.
LG Home Entertainment
LG Home Entertainment produces a wide array of electronic products related to visual display, computing, and home security. These products include a 3D Smart TV, computer monitors, notebook computers, home theater systems, visual image projectors, car audio systems and video security systems.
LG Mobile Communications
LG Mobile Communications serves the global mobile communications market. Its products include cell phones and communication devices that range from high-end smartphones with 3D displays to basic smartphones that feature Android and Windows operating systems.
LG Home Appliances
LG Home Appliances produces a wide assortment of products for the home, including refrigerators, washers, dryers, vacuum cleaners, dishwashers, air and water purifiers, and microwave and convection ovens. LG produced the first Internet-capable refrigerator in 2000.
LG Air Conditioning and Energy Solutions
This unit produces heating and air conditioning systems, LED lighting systems, and environmental control systems for both home and commercial use.
LG Vehicle Components
The LG Vehicle Components unit consists of four major product areas: xEV Solutions, Infotainment Devices, Safety and Convenience Devices, and Vehicle Engineering. The xEV Solutions product line includes power conversion systems for electric cars, automotive heating and cooling systems, and electric car battery packs. The Infotainment Devices unit produces automobile navigation systems and integrated telecommunication systems that aid in emergency assistance, diagnostics and the relay of traffic information. The Safety and Convenience Devices unit produces digital instrument clusters, obstacle warning systems, heads-up displays, and parking assistance systems and cameras for automobiles. The Vehicle Engineering unit provides design, manufacturing, and component support for the production of automobiles.