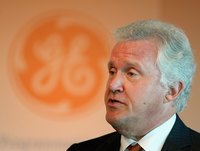 The General Electric Company was first founded by Thomas Edison in 1878 under the name "Edison Electric Light Company" to sell his new invention, the incandescent light bulb. As of the end of 2013, the company had annual sales of $146 billion and over 300,000 employees.
The GE Name
General Electric was created in 1892 when Thomas Edison's Edison Electric Light Company merged with the Thomson-Houston Electric Company. The new company was named GE, for General Electric Company.
Early Innovations
Early innovations created by General Electric included building an X-ray machine in 1896, the first industrial lab in the United States in 1900, the first electric fan in 1902 and the first electric range in 1906.
Anti-Trust Action Against GE
In the first half of the 20th century, GE was forced to limit its activities in several industries, including utilities and radio. It was also forced to release its light bulb patent to competitors in 1949.
Patent Accumulation
Over the course of its life, GE has been awarded over 67,500 patents. Two GE employees received Nobel Prizes. Irving Langmuir won the first in 1932 and Ivar Giaever won the second in 1973.
Fun Fact
GE is the only stock that was part of the original Dow Jones Industrial Average and was still part of the index as of 2014.