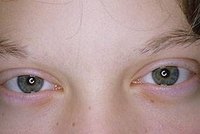 Eyelash loss, also called madarodis, can be caused by several factors, including normal hair loss, cosmetics, medications, and medical and psychological reasons. With proper eye care, you can minimize eyelash loss.
Vigorous Washing
It is normal to lose a few eyelashes during normal bathing but if the cleansing routine is too harsh or too frequent, abnormal loss may occur. When washing the face, and especially the eye area, do not rub vigorously or scrub with a cloth. Use a gentle cleanser and fingertips.
Makeup
Ironically, eye makeup meant to enhance lashes can actually be a major factor in eyelash loss. Eyelashes can only hold so much weight. Mascara that is too heavy can crumble and break lashes. Waterproof mascara requires repeated tugging and pulling with an oil-based remover to come off. False eyelashes use an adhesive that pulls out natural lashes when removed. Eyelash curlers can pull out and break lashes.
Medications
The "Indian Journal of Dermatology, Venereology and Leprology" states that eyelash loss may be a side effect of Botulinum A injections, a treatment for muscle spasms. Drugs, such as miotics, anticoagulants, anticholesterol drugs and antithyroid drugs, are among others that can cause lashes to fall out.
Diseases
Infections and autoimmune diseases can cause lashes to fall out. Alopecia areata (AA) is a disease that causes baldness and can affect the eyelashes. Trichotillomania (TTM) is a psychiatric disorder that causes a person to pull out body hair, including eyelashes.
Healthy Lashes
There are ways to ensure healthy lashes. Lightly coat lashes with petroleum jelly at night to replace lost moisture. Remove all traces of mascara before using an eyelash curler and only use waterproof mascara on occasion. Ask your doctor for an alternative medication if eyelash loss occurs. Seek treatment for any disorders.