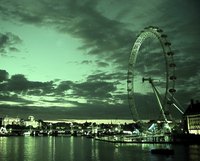 In practical terms, a late night assault on London typically requires staying close to the center, where the vast majority of attractions are. While black cabs and night buses technically allow travel to and from the outer boroughs, getting around is less straightforward after the Underground closes after midnight. Stick to the center, though, for an array of world class activities, many of which are free.
West End
Packed into Central London's West End are Oxford Street, the longest shopping street in Europe, the restaurants of Chinatown, the bars of Soho, and the largest theater district in the world, all of which burst into activity shortly after dark and remain busy until the early hours. Theater buffs will need to book well in advance to catch the top rated shows, but can pick up last minute tickets from the booths in Leicester Square, also home to the capital's landmark movie theaters. For something more eclectic, the nearby Prince Charles Cinema has regular all-night movie marathons and cult evenings, while the Rooftop Film Club and Luna Cinema host open air screenings at selected venues during summer.
Night Tours
Visitors who want to tour the capital's major sites, with running commentary, from the comfort of an open-top bus are by no means restricted to daylight tours. The London by Night Sightseeing Tour runs from 7 p.m. to just before midnight, departing from Victoria but picking up and dropping off along a route which covers Hyde Park, Westminster, St. Paul's and the Tower of London. Those with nerves of steel and stout shoes can even take a walking ghost tour of the capital's numerous haunted landmarks. London Ghost Walks meets seven nights a week at selected tube stations at 7:30 p.m. for guided walks that cover numerous eerie districts around Central London.
Nocturnal Culture
To avoid the daytime crush when schools and tour parties descend on London's plethora of free museums and galleries, visitors can look out for late night openings throughout the month. On Thursdays, the Barbican galleries stay open until 10 p.m. during special exhibitions, while the National Gallery and National Portrait Museum on Trafalgar Square host late openings until 9 p.m. on Fridays. On the last Friday of the month, the Natural History Museum in South Kensington is open until 10:30 p.m., and the nearby Science Museum stays open until 10 p.m. on the last Wednesday of the month. For modern art lovers, the Tate Modern on the South Bank throws open its doors until 10 p.m. on Fridays and Saturdays.
Go Shopping
Shoppers who don't want to weather the daytime crush can browse Oxford Street's flagship stores until 10 p.m. in some cases, while late night shopping is customary over the Christmas period in some of the capital's iconic department stores. Selfridges on Piccadilly and Harrods in Knightsbridge, for example, stay open until 9 or 10 p.m. in the weeks leading up to Christmas. For an eye-opening insight into London's food supply, visitors should head to Smithfield market near Farringdon, where the meat market gathers steam from 3 a.m. onward. Part trade, part performance, the market presents a rare, authentic slice of London life. From 6 a.m., visitors can even enjoy a beer and full English breakfast in one of the area's pubs, often alongside clubbers heading home or bankers on their way to the city.
Seasonal Attractions
In summer, the Regent's Park Open Air theater hosts Shakespeare, modern drama and comedy performances in an enchanting amphitheater where picnicking is allowed. From mid-September to mid-April, the Hampstead Observatory on Hampstead Heath turns over its telescope to visitors for free for some stargazing, but on a clear night, the surrounding heath is the ideal vantage point for taking in the city's skyline bathed in neon. Otherwise, the London Eye is open until 8:30 p.m. during summer for unparalleled views of the River Thames and Westminster's rooftops.