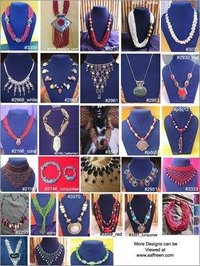 Fashion jewelry is popular, but it can be expensive to buy. And you can't always find pieces in the colors or styles that you like. There are some pieces you can make that won't cost you a lot, and you can design them specifically for your needs.
Lariats
Lariats are long chains of beads and stones that you wrap around your neck however you like. Wrap the chain so there is a choker and a longer necklace with the ends hanging down or make two long necklaces and loosely tie the ends together. You can create multiple looks with this one piece.

Peyote Stitch
The peyote stitch is durable, because you build on previous beads. There are different types of peyote stitches, such as a flat stitch, a round stitch and an uneven peyote stitch, which gives you a lot of options when designing a necklace. Make thick chokers with flowers or shapes designed into the stitch with the beads, or use an uneven peyote stitch to give your piece multiple dimensions and a unique look.

Heart Choker
The heart choker is a delicate, feminine piece. t is very easy to create and looks great with many outfits. Also, depending on the colors you choose, you can make it really stand out or give it a more elegant look.

Multi-Strand Necklaces
Multi-strand necklaces are fun because you can add as many strands of beads as you like and make a thick, chunky necklace or create a simpler look. Varying the length of the strands works well, too, such as having shorter and longer strands mixed together.

Twisted Rope
You're likely to get many compliments with a twisted-rope necklace because at first glance it looks like a real rope. However, it is made of seed beads and stones. Alternate colored sections with these or add additional stones and glass beads to add flare and originality.

Ladder
A ladder stitch is strong and durable, and you can vary the width of the piece by adding additional rows. These can be made as long necklaces or chokers, or you can add a charm as the centerpiece.