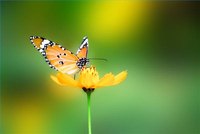 When we watch a butterfly take-off into the sky, we do not often think about the changes it has gone through, but every butterfly we see has undergone a complete metamorphosis during its fascinating four-stage life cycle .
First Stage
Each new butterfly begins life when an adult butterfly lays very small eggs on a leaf.
Second Stage
The eggs grow and eventually hatch into butterfly larva, which are commonly called caterpillars. As soon as the caterpillars have emerged from the eggs, they begin to eat leaves. As they eat and grow, the caterpillar will have to shed its skin numerous times before it becomes a full-size caterpillar.

Third Stage
After the caterpillar is completely mature, it turns itself into a pupa or chrysalis (sometimes called a caccoon). Inside this chrysalis the caterpillar begins to morph into a butterfly.

Fourth Stage
When the butterfly is fully formed it emerges from the chrysalis, and after a few hours it will begin flying.

Fun Fact
From the time they hatch until they turn into chrysalises, some caterpillars can increase their weight thousands of times.