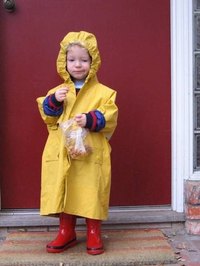 A raincoat is an outerwear garment that has been designed and manufactured to repel and resist water or to be completely waterproof. Modern raincoats are comfortable and made from lightweight, breathable materials, but early raincoats were typically bulky, uncomfortable and inefficient.
Early Attempts
From the 13th century's use of rubber tree extracts on clothing through the late 18th century when G. Fox of London developed the first raincoat, humans have tried to repel the elements with limited success.
The Macintosh
During the early 19th century that changed when Charles Macintosh developed a way to combine, or treat, fabrics with rubber resulting in the first effective raincoats. This process was patented in 1823.
Vulcanized Rubber
In 1843, Thomas Hancock improved the Macintosh raincoat by incorporating vulcanized rubber, which is more elastic and flexible, into the manufacturing process.
Wool Raincoats
Over the next 60 years, rain wear continued to improve in flexibility and breathability. Americans introduced techniques that increased water resistance, and chemically treated wool raincoats were introduced.
Advancements
Weight and breathability advancements continued over the next six decades with oil treated fabrics in the 1920s, vinyl and plastic in the 1950s, nylon in the 1960s and chemically treated double-knits in the 1970s.
Modern Raincoats
Modern raincoats are available in a variety of styles and colors. Although treated gabardine raincoats are still in use, popular designs include the use of Gore-Tex, microfiber and other high-tech materials.