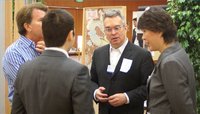 Good communication can make the difference between success and failure in the business world. These techniques can help any professional communicate better, whether you're already a star communicator or are still learning the ropes.
Have a Clear Objective
Have a clear purpose and make it obvious. In emails, clearly state your topic in the subject line; when starting a meeting, review objectives and expected outcome.
Understand the Audience
Whether calling your boss or writing for the corporate blog, the starting point is the same: know your audience. A good audience analysis helps determine the best language, style, level of detail and format for reaching that audience.
Match Method to Message
Good communicators know how to select the right communication mode for a particular message. For instance, email is well suited for project information, while face-to-face interaction is required for an emotionally charged topic.
Pay Attention to Detail
Attention to detail in message delivery is an essential communication technique. Before hitting "Send" on that email, spellcheck it.
Obtain Feedback
The only way to know how effectively you've reached your audience is to obtain feedback. When announcing a new employee benefit plan, for example, conduct a survey to ensure that employees have not only read but also understand the changes.
Looking Forward
With these business communication techniques and a little practice, you'll be on the road to continuous improvement.