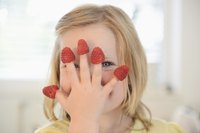 When it comes to good nutrition, kids in the U.S. are struggling. According to the 2010 Dietary Guidelines for Americans, sweets such as cakes and cookies are the number one source of calories for children ages 2 and up. When kids make better food choices by including foods from all the food groups, they not only nourish their growing bodies, but their growing minds, too.
Grain Goodness
While most kids probably don't have a hard time getting enough grains in their diet, they may not be getting enough whole grains, according to the dietary guidelines. Whole grains are not only a better source of fiber, but also rich in iron and B vitamins.
Depending on individual calorie needs, children need 4 to 9 ounces of grains a day, where 1 ounce is equal to one slice of bread or 1 cup of cereal. Half of those grains should be whole grain. Up your child's whole grain intake by swapping out white bread for whole wheat, mixing regular cereal with a whole-grain cereal and offering whole-grain side dishes at dinner.
Fruits Are Fun
Fruits are sweet and full of nutrients children need for good health, including vitamins A and C, folate and potassium. Children need 1 to 2 cups of fruit a day. While 100-percent fruit juice does count as fruit for kids, it's better to eat the whole fruit because of the fiber and nutrient content. Help your children meet their daily fruit needs by offering fruit at meals and snacks. For little kids, cut up the fruit into pieces so it's easier for them to eat.
Vary Your Veggies
Veggies, like fruit, are rich in nutrients kids need. But many children may not be eating enough of these nutrient-rich foods, according to the dietary guidelines. Children need 1 1/2 to 3 1/2 cups of vegetables a day. To get your child to eat her vegetables, you may need to pair them with yummy dips. For example, celery and carrots with peanut butter or peppers and cucumbers with hummus. You can also sneak veggies in soup, chili or spaghetti sauce. Adding cheese to cooked vegetables, such as broccoli or cauliflower, may also help.
Power Up With Protein
Protein foods for kids include chicken and hamburgers, along with seafood, nuts, seeds and beans, too. Kids need 3 to 6 1/2 ounces of protein a day, and varying their protein options helps you vary their nutrient intake. ChooseMyPlate.gov says kids should eat beans or peas, where 1/4 cup is equal to 1 ounce, for protein twice a week. Bean burritos and chili are good kid-friendly foods for beans and peas. Fish tacos or shrimp stir fry may help get your child to eat more seafood.
Delicious Dairy
Kids need dairy foods for their growing bones, and should aim for 2 1/2 to 3 cups a day. Unfortunately, many children don't meet their needs, according to the dietary guidelines. Offer milk to drink at meals instead of soda or juice to help encourage intake. Add low-fat cheese, where 1 1/2 ounces of natural cheese is equal to a 1-cup serving, to sandwiches or snacks to help meet needs. If your child cannot tolerate milk, look for plant-based alternatives fortified with calcium, such as soy milk or rice milk, to use as a substitute.