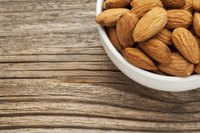 When part of a healthy diet, eating a handful of crunchy almonds every day may improve heart health by lowering LDL, or "bad" cholesterol levels, reports the Dairy Council of California. With raw almonds, all you get is the goodness of the almonds, and no added fat or salt that you might find in some roasted varieties.
Calories and Macnonutrients
With an energy density close to 6 calories per gram, raw almonds are a calorie-dense food, so watch your portions to keep calories in balance. A 1-ounce -- or 28 gram -- serving of raw almonds, which is about 23 almonds, contains 162 calories. By comparison, a 1-ounce serving of almonds roasted in oil contains 170 calories. Raw almonds are a good source of fiber and provide some protein, but most of the calories come from the fat content. The 1-ounce serving contains 14 grams of fat, 6 grams of carbohydrates, 3.5 grams of fiber and 6 grams of protein. The raw almonds are a slightly better source of fiber than oil roasted almonds, which contain less than 3 grams of fiber per 1-ounce serving.
Get Your Bs and Es
Raw almonds are an excellent source of vitamin E, and can help you get some of your B vitamins. A 1-ounce serving meets 35 percent of the daily value for vitamin E, 19 percent of the daily value for riboflavin and 5 percent or less of the daily value for niacin, thiamin, pantothenic acid, vitamin B-6 and folate. Vitamin E is an antioxidant that protects your body from damaging free radicals. It's also needed for making red blood cells and supports a healthy immune system. Riboflavin also plays a role in the formation of red blood cells in conjunction with the other B vitamins, and helps break down carbs into energy.
Rich in Minerals
Raw almonds contain a variety of health-promoting minerals, including calcium, iron, magnesium, phosphorus, potassium, zinc, copper and manganese. The nuts are an especially good source of magnesium, meeting 19 percent of the daily value per serving, and manganese, meeting 31 percent of the daily value per serving. Both magnesium and manganese are essential for a number of enzymatic reactions in the body. Magnesium is also important for blood sugar and blood pressure control. Like vitamin E, manganese is also an antioxidant that works deep in your cells to protect them from damage.
Phytosterols for Heart Health
Phytosterols are substances in plants that look and work like the cholesterol in your body. When you eat them, they inhibit your body's absorption of cholesterol, helping to lower your levels. Raw almonds are a source of phytosterols, containing 39 milligrams per 1-ounce serving. To improve cholesterol and heart health, aim for 800 milligrams to 1,000 milligrams of phytosterols a day, advises the Linus Pauling Institute. Although raw almonds are not a significant source of phytosterols, they can help boost your intake if part of a healthy diet that includes other sources, such as vegetable oils, seeds, other nuts, legumes, vegetables and whole-grains.