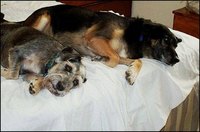 Dogs and beds get along well like bread and butter. Most dogs appear to enjoy snoozing on the bed. But trouble starts when dogs begin thinking the whole bed is theirs and start growling at their owners when forced to get down.
Warmth
Dogs might enjoy the bed because it is warm. This is mostly seen in the winter when dogs might feel comforted and relaxed as temperatures drop.
Companionship
Dogs often will enjoy sleeping along with their owners. Sharing the bed fulfills their need for affection and closeness.
Dominance
Alpha dogs in nature tend to prefer elevated spots. For this reason, dogs allowed on beds might perceive themselves as leaders of the pack.
Considerations
A dog that growls when owners move or when told to get off the bed are believed to be dominant. For this reason, such dogs should not be allowed on beds or couches. A dog should get off a bed immediately after being verbally told to get off.
Types
Senior dogs and dogs with arthritis benefit from sleeping on dog beds. Some beds are orthopedic and made of foam for best comfort and support.