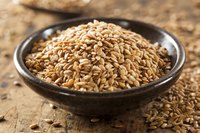 Adding flaxseed to your diet can help you increase your intake of fiber and omega-3 fats, both of which may have some potential heart-health benefits. Flaxseed oil is also helpful for increasing omega-3s, but it doesn't have as many potential beneficial effects as ground flaxseed because it doesn't contain fiber. Although flaxseed and flaxseed oil are generally considered safe, there are some potential risks to using therapeutic doses of flax. Speak with your doctor to make sure it is safe for you before starting to use flaxseed or flaxseed oil.
Gastrointestinal Problems
Because flaxseeds are high in fiber, they may cause constipation if you eat them in high amounts without drinking enough water. Seek medical attention if you experience severe constipation or any sign of bleeding, which could occur if you don't drink enough water or take very large amounts of flaxseed.
Mild side effects could include gas, nausea, diarrhea, heartburn, bloating or abdominal pain. Starting with a small serving, working your way up to larger amounts and drinking plenty of liquids when taking flaxseeds can minimize these risks, which aren't likely to occur when you only use moderate amounts. Flaxseed oil is high in omega-3 fats, and as such could cause a bad aftertaste, indigestion or loss of appetite.
Allergic Reactions
Don't eat flaxseeds that are unripe or raw because these can be poisonous. Although not common, you could experience a severe allergic reaction to flaxseed or flaxseed oil. Seek medical attention right away if you experience difficulty breathing, rash, itching or swelling of the mouth or throat after you consume flax. Other potentially serious but uncommon side effects from flaxseed oil include headache, irregular heartbeat, sweating, unusual tiredness or weakness, dizziness, bleeding gums, cough or paralysis.
Medication Interactions
Flaxseed may interact with birth control medications, and both flaxseed oil and flaxseed may interact with diabetes and blood-thinning medications. Flaxseeds slow the emptying of the stomach and could lower blood sugar, while the omega-3s in the oil could slightly increase blood sugar levels. Avoid using flaxseed with stool softeners or laxatives. You can minimize the risk of interactions by taking your medications one or two hours before or after you take your other medications. Flaxseed oil may also interact with NSAIDs, such as ibuprofen, as well as cholesterol medications, cyclosporine and certain types of steroids.
Potential Contraindications
Because the lignan fiber in flaxseed can act like estrogen, women who are pregnant or breast-feeding or who have hormone-sensitive cancers or endometriosis may want to avoid taking flaxseed. The high fiber content could make a bowel obstruction or narrowed esophagus worse. Men with prostate cancer should also avoid flaxseed. Those with bleeding disorders may want to avoid flaxseed oil, as it can increase bleeding. The form of omega-3 in flaxseed oil, alpha-linolenic acid, may increase the risk for macular degeneration in older individuals.