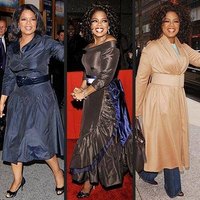 Looking stylish over the age of 50 isn't impossible. Your clothing focus should be on fit and quality. You've tried the trends and know what works, so hone in on colors that suit you and pieces that fit your lifestyle in order to create a functional wardrobe.
Colors
By now you know what colors work with your skin tone, so choose what you're comfortable in. Choose strong neutrals like taupe and navy to avoid having a closet full of basic black.
Fit
Fit is the most important part of looking stylish. To keep necklines and hemlines age appropriate, avoid wearing anything too short or too low cut. Also avoid anything too tight. Clothes too boxy or big can add the appearance of extra pounds.
Quality
At this age, unless you are dieting your size won't probably change, so invest in quality basic pieces such as a sheath dress, cardigans, tailored jackets and trousers that fit you well.
Accessories
Go for tailored apparel paired with bold accessories. Play with statement necklaces and big cuffs, which will add an instant glam factor your look.
Underpinnings
Even the most decadent clothing won't feel right if your bra and panties don't properly fit. Get fitted for a bra every six months and invest in quality, seamless panties that create a smooth finish underneath your clothes.