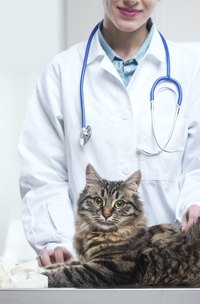 Veterinarians may recommend running blood work on your cat, either as a routine test or to help diagnose a medical condition. Following your veterinarian's recommendations for testing can help catch illnesses at the early stages and determine the best treatment options for your cat.
Complete Blood Count
A complete blood count test measures your cats white and red blood cells and other blood components. Abnormal results may indicate illness, allergies or a parasitic infection.
For example, your cat's normal white blood cell count should be between 5.5 and 19.5. Results outside of that range may indicate an infection or illness. Normal hematocrit levels, or the percentage of red blood cells in the blood sample, should be between 25.0 and 45.0. Levels may be elevated due to stress. Abnormal levels may indicate that your cat has anemia.
Blood Chemistry Profile
The blood chemistry profile measures levels of proteins, electrolytes and other chemicals found in blood. Results help your veterinarian diagnose kidney and liver problems, tumors and other diseases.
For example, blood urea nitrogen indicates kidney function. The normal blood urea nitrogen range is between 16 and 36. Abnormally high results may indicate your cat has kidney, liver or heart disease, urethral obstruction or is in shock or dehydrated.
Creatinine levels also are indicative of kidney function. If blood urea nitrogen is elevated, the creatine level determines if the cause is related to the kidney or something else.
Elevated alkaline phosphatase levels indicate your cat may have liver damage or Cushing's disease.
Feline Immunodeficiency Diseases
Feline leukemia virus and feline immunodeficiency virus testing is recommended for cats and kittens new to your home. These blood tests determine if either virus is present in your cat's blood. Cats may not show signs of the virus for several years but are susceptible to secondary infections. Both diseases can cause death and may be transmitted to other cats in your home. There is no cure for these viruses, but knowing if your cat is infected can help you and your vet manage your cat's health care and extend his life.
Thyroid Profile
If your vet suspects your cat may have a hyperthyroid condition, she may order a thyroid profile to measure levels of two hormones produced by the thyroid gland: thyroxine and triiodothyronine.
Cats with hyperthyroidism usually have high total thyroxine concentration. The normal range for most cats is 0.5 to 5.8. The blood test for free thyroxine concentration measures the amount of thyroxine not bound to blood proteins. The free thyroxine concentration levels fluctuate less due to other factors such as medications or other illnesses, helping to confirm a diagnosis of hyperthyroidism.
Finally, veterinarians may order a triiodothyronine suppression test. After a total thyroxine concentration is obtained to use as a baseline, they administer oral triiodothyronine. If the cats thyroid is functioning normally, the oral triiodothyronine will cause the cat to stop producing thyroxine and thyroxine concentration decreases when a second blood sample is taken.
Cats rarely have an underactive thyroid, or hypothyroidism. If your cats thyroid levels are low, it is likely a symptom of another illness and additional testing may be needed to complete a diagnosis.
Glucose Curve
Veterinarians may order a glucose curve for cats with diabetes. These tests may be done in a clinic or your vet may ask you to administer the test at home using a blood glucose meter.
The glucose curve measures your cat's blood glucose in the morning before eating and every two to three hours throughout the day. Cats should be fed normally during the test.
Glucose curves help veterinarians understand how your cat's blood sugar levels vary throughout the day and prescribe appropriate levels of insulin to manage her diabetes.
Heartworm Testing
Although cats are less susceptible to heartworm than dogs, they may still be infected with the parasite. The two most effective blood tests to diagnose heartworm are the heartworm antibody test and heartworm antigen test.
If the antibody test is positive, it shows that your cat has been exposed to heartworms. However, antibodies remain in the blood stream after the infection is removed, so a positive result does not necessarily indicate an infection.
If the antigen test is positive, your cat is infected with heartworms. However, the antigen test only shows the presence of female heartworms. Your cat may be infected with male heartworms.