Omega-3 fats are best known for their potential to reduce the risk of heart disease, but they may have some other benefits. Evidence on the benefits of omega-3 fats for weight loss is preliminary and conflicting, however. Check with your doctor before taking supplemental omega-3 for weight loss to make sure it would be safe for you.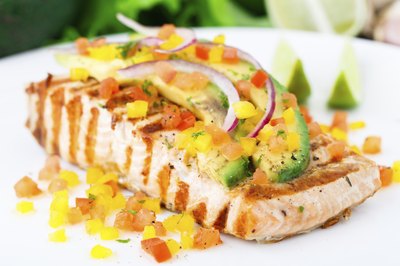 Omega-3 Fats and Metabolism
Evidence is mixed on whether omega-3 supplementation helps increase your metabolism. Early studies showed a potential for omega-3 supplements to increase resting metabolic rate, but this may have been due to improvements in body composition. A study published in the Journal of the International Society of Sports Nutrition in 2010 found that taking omega-3 supplements for four weeks didn't cause any changes in resting metabolic rate, which is the amount of calories you burn while at rest.
Omega-3 Fats and Weight Loss
Fish oil may help reduce feelings of hunger after meals, according to a study published in Appetite in November 2008. This could make it easier to stick with a weight-loss diet. Whether it actually increases weight loss is still unclear.
The 2010 Journal of the International Society of Sports Nutrition study didn't find that fish oil supplementation helped with weight loss, but it did conclude that it may help you increase your lean body mass while decreasing your body fat.
It could be that the study period was just too short, however, because a longer eight-week study published in Food & Function in April 2013 found no weight loss at four weeks but small but significant changes in body weight and BMI at eight weeks.
Types of Omega-3 Fat
The type of omega-3 you consume could affect whether it's beneficial for weight loss. A study published in The American Journal of Clinical Nutrition in December 2010 found that supplements containing docosahexaenoic acid, or DHA, and eicosapentaenoic acid, or EPA with a ratio of 1 part DHA to 5 parts EPA didn't increase weight loss any more than a placebo when used in combination with diet and exercise.
However, a study published in Physiological Research in 2006 found that increases in DHA may help increase weight loss in women being treated for obesity with very-low-calorie diets. The other main type of omega-3 fat, alpha-linoleic acid, or ALA, isn't well converted to the DHA and EPA your body uses best and hasn't been well-studied for weight loss.
Potential Considerations
High doses of omega-3 supplements, such as those above 1 gram per day, may increase the risk of bleeding, especially if you take blood thinners. These supplements may also cause diarrhea, bloating, gas and belching. Choose fish oil supplements that have been certified free of harmful contaminants, such as mercury.
Omega-3 supplements can interact with certain drugs, including diabetes medications, blood thinners, NSAIDs, cholesterol-lowering medications and cyclosporine. Fish oil supplementation could make these medications either more or less effective and increase the risk of side effects.