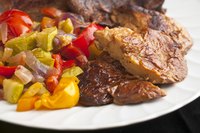 Seitan is a non-animal protein source that is a staple for many vegetarians. It's made from vital wheat gluten flour, also called wheat gluten. It adapts to many flavors and originates from Asia, where it is commonly included in stir-fries and soups. Nutritionally speaking, seitan is a low-fat, high-protein food that easily stands in for meat in many recipes.
Nutritional Profile
Make seitan at home by mixing vital wheat gluten with water, or purchase premade versions in health food or specialty grocery stores. Shop for vital wheat gluten at bulk food stores, baking supply shops, grocery stores and health food stores. Varying amounts of seitan can be mixed with water or broth to make different recipes. For example, a 1/2 cup of vital wheat gluten mixed with a 2/3 cup of water produces a 3-ounce serving of seitan, which has 240 calories. It offers minimal amounts of fat and fiber, with 0.4 grams of dietary fiber and 1.2 grams of total fat.
Excellent Source of Protein
Seitan is an excellent source of protein and is often featured as a meat substitute in Asian cuisine. A 3-ounce serving of seitan can help you meet the 5 to 6 1/2 ounces of protein foods per day as recommended by the U.S. Department of Agriculture for a healthy, balanced diet. With 49 grams of protein per 3-ounce serving, seitan provides 100 percent of the amount of protein a woman needs each day and about 88 percent of a man's protein needs. Every cell in your body requires protein, and while most Americans get enough in their regular diet, a greater variety of protein foods — not just animal protein — is strongly recommended.
Rich In Iron
Seitan is a good source of iron, and a 3-ounce serving contains 3.4 milligrams. This provides 19 to 43 percent of the recommended daily intake of iron, which is 8 milligrams per day for women over the age of 50 and adult men. The recommended intake for women 50 and under is 18 milligrams per day. Iron is an essential mineral as it helps your body make red blood cells. It is also needed to produce hemoglobin, which helps to transport oxygen throughout your body.
Watch The Sodium
Seitan is naturally low in sodium, with only 19 milligrams per 3-ounce serving. However, extra seasoning is often added to premade versions, because plain seitan is not very flavorful. When buying highly processed seitan — for example, chipotle ground "beef" or smoked "meat" — you can significantly increase the amount of sodium in a single serving. Choose low-sodium, naturally flavored seitan products to help manage your sodium intake. The recommended intake is 2,300 milligrams per day, or 1,500 milligrams for those with heart disease, who are over 50 or who are African-American. The best option is to make seitan at home with vital wheat gluten, then add dried herbs and spices to season instead of using salt to boost flavor.