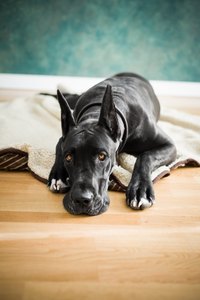 Osteosarcoma is an aggressive bone cancer that readily metastasizes, or spreads, to other organs -- leading to survival times of approximately one year even with aggressive treatment. Without treatment, most dogs have just two months of quality time remaining.
Osteosarcoma in Dogs
Osteosarcoma is the most common bone cancer in dogs, representing approximately 85 percent of all cases. It appears in the limbs 75 to 85 percent of the time, but may develop in any place on the skeletal system. This cancer typically develops in older dogs, with a median age of 7 years.
Certain factors may increase a dog's risk for osteosarcoma. Large and giant breed dogs, including Great Danes, Doberman pinschers, Irish setters, German shepherds, Rottweilers and golden retrievers are more likely to develop this condition. Dogs who have not been spayed or neutered are also at a slightly higher risk. Radiation, exposure to carcinogens and healed bone fracture sites also may increase the chance of osteosarcoma.
Symptoms of this condition may include a visible or palpable mass, frequent bone fractures, swelling around the site of the tumor and signs of pain in the dog, such as lameness, irritability, loss of appetite, weight loss, inability to sleep and reluctance to exercise.
Palliative Care
Since osteosarcoma is a painful condition, your veterinarian may recommend palliative care, which is intended to relieve pain and make the dog comfortable. Oral pain relievers typically preserve the dog's quality of life for approximately two months, at which point euthanasia is often necessary.
Radiation therapy is the most effective pain relief treatment for osteosarcoma. The tumor is injected with three doses of radiation over three weeks. The pain relief usually takes full effect around three weeks after the first treatment and lasts for approximately four months. The treatment can be repeated, depending on the stage of the cancer after four months.
Aminobisphosphonates, a class of drugs created to treat the pain associated with bone cancer in humans, also may be used to relieve pain in dogs when combined with radiation therapy. When used in combination, palliative care measures may extend the dog's quality of life between four and 10 months.
Surgical Options
If the osteosarcoma appears in the limbs, amputation is a common surgical treatment. It removes the primary tumor and the pain for many dogs, resulting in a return to good quality of life for 90 percent of dogs. Unfortunately, since the majority of osteosarcoma cases also metastasize to the lungs, amputation alone typically only has a survival time of approximately four months.
Limb sparing procedures may be an option for dogs who could not undergo amputation -- typically due to severe arthritis -- although it is most suited for dogs whose cancer is in one of the lower front legs. These procedures remove the cancer and replace the removed bone with metal plating, bone grafts or a combination of the two. The survival time for this procedure is the same as the survival time for amputation.
Use of Chemotherapy
Chemotherapy is an essential part of extending the dog's life, and typically is well-tolerated. Dogs treated with chemotherapy may experience nausea, loss of appetite and vomiting for a few days after treatment, but symptoms usually are not severe.
When combined with palliative care, chemotherapy can help achieve survival times of between four and 10 months.
Chemotherapy combined with surgery offers the best survival times currently possible. Four treatments of the chemotherapy drug carboplatin when combined with surgery leads to survival times of around 10 months, while six treatments can lead to survival times of 17.5 months. Up to a quarter of the dogs treated with chemotherapy and surgery may survive for more than two years after the treatment.
Developing Treatments
There are some promising treatments for osteosarcoma currently in development. CyberKnife radiosurgery may be an option for dogs who cannot undergo amputation or limb sparing procedures. This procedure delivers high dose radiation to the tumor itself over one to three treatments, killing it while leaving the surrounding tissues intact. Current research suggests this procedure may be as effective as amputation for dogs who are good candidates.
A treatment being developed at the University of Pennsylvania based on a genetically engineered strain of the Listeria monocytogenes bacteria may increase survival times. It is intended to help the immune system fight cancer cells that remain in the body after surgery and chemotherapy, reducing the risk of recurrence or metastasis of the cancer.