Sweet and spicy Thai food is an excellent choice to liven up a low-carb diet even though the Thai word for main dish -- kap khao -- means "(that which is to be eaten) with rice." Many Thai dishes, such as satay, curries and salads are prepared with little to no added starchy carbs while soups and stir fries can be enjoyed without noodles or rice. When cooking at home you have even more control over the carbohydrate count by substituting tofu or vegetables for the carb-laden starches without sacrificing flavor.
(Paul_Brighton/iStock/Getty Images)
Spring rolls are a traditional and well-loved Thai appetizer, but the dough they are wrapped in is similar to a thin pasta, and therefore high in starchy carbohydrates. Satay is a better choice because because the grilled protein and peanut-based dipping sauce are naturally low in carbs and are both flavorful and filling. Spring rolls wrapped in lettuce leaves are also a reasonable alternative.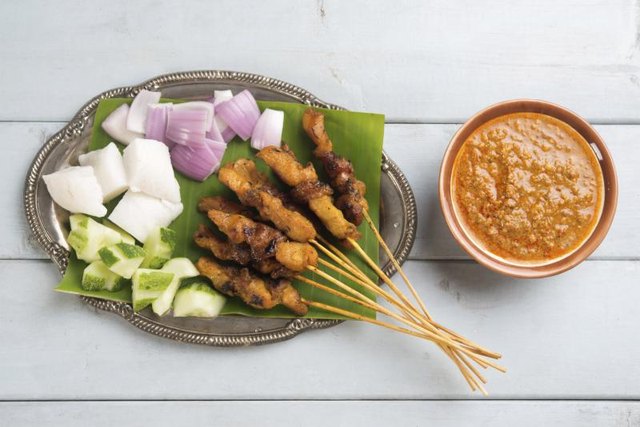 szefei/iStock/Getty Images
Som Tam -- which means "sour pounded" -- is a fresh salad made of shredded green papaya, tomato and yardlong beans. The vegetables are muddled in a mortar and pestle along with the dressing ingredients which usually include chili pepper, fish sauce, garlic, lime juice and palm sugar. When dining out, ask for the dressing on the side and when making it at home substitute a low-carbohydrate sweetener such as stevia for the palm sugar. If you can't find green papayas, use a crunchy vegetable such as bean sprouts instead. Thai salads consisting of beef, pork, chicken or seafood and greens are also a good low-carb choice. One example is yam phak khut, which is a mixture of pork and leafy green ferns.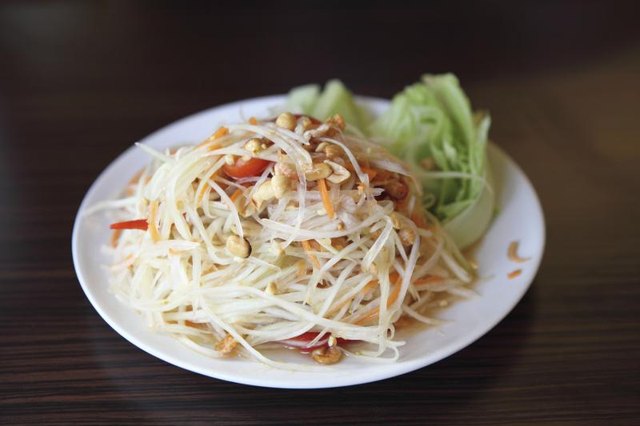 piyato/iStock/Getty Images
Most Thai soups are prepared without starches and then served with noodles or rice, which means that you can order your soup plain in a restaurant. Hearty and flavorful choices include tom yam kai, which is a spicy chicken soup, and tom yam goong, which contains shrimp. The first is more likely to include rice or noodles, so make sure to ask if they are offered on the side or not served at all. The second is made with a flavorful blend of chili pepper, galangal, kaffir, lemon grass, lime leaves, shallots and tamarind. Both soups are traditionally made two ways; either in a clear broth or with coconut milk added for a slightly thicker and milder soup. Coconut milk is not carb-free so depending on your carbohydrate allowance for the day, you may want to choose the clear broth.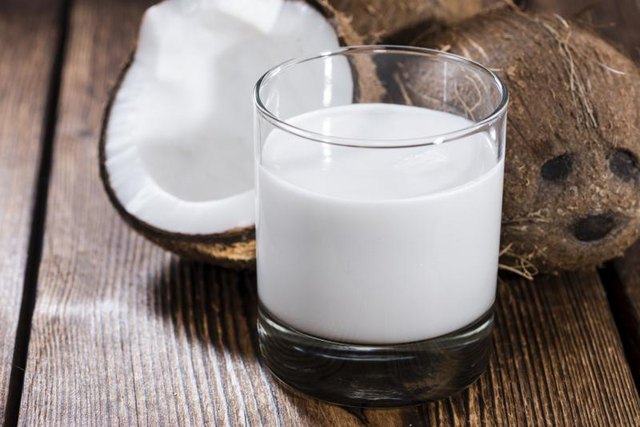 HandmadePictures/iStock/Getty Images
As long as you stay away from pad thai, which is a fried noodle dish, you should have no trouble finding a delicious main dish that is deeply flavored and light in carbohydrates. Almost any type of green, red or yellow curry will offer rich flavor, sensual texture and few carbs, as long as you enjoy the dish without the accompanying starches. Pair a vegetable stir fry with satay for a balanced meal that offers a variety of flavors and textures.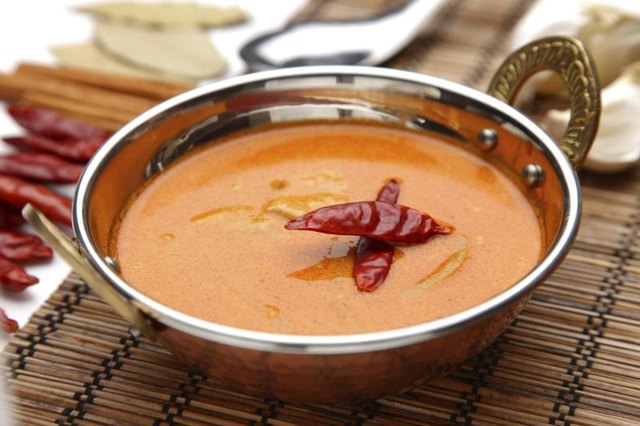 Lucia9/iStock/Getty Images
Unfortunately, unless you have saved up enough carb grams to enjoy a bit of fresh fruit, Thai desserts tend to be as loaded with starch and refined sugar as most Western desserts. A cup of hot green tea sweetened with stevia or agave is probably your best bet for a virtuous end to a sumptuous, low-carb meal.
DENIO RIGACCI/iStock/Getty Images
Promoted By Zergnet