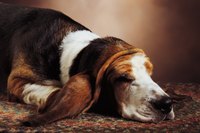 Myositis, or muscle inflammation, can affect a dog's single muscle or an entire muscle group. Often, an underlying disease causes the condition. If your dog develops any sort of muscular issue, take him to the vet as soon as possible for diagnosis and treatment. Early treatment can make a difference in the dog's prognosis, especially in the case of masticatory myositis.
General Myositis
Polymyositis, often referred to as general myositis, is an immune-system disorder. The dog's body reacts abnormally against his own muscles. Certain parasites, including toxoplasma or hepatozoon, can cause the disease. The latter parasite is spread by ticks and found primarily in the southeastern United States. Other causes include cancer. In many cases of myositis, the cause is never determined.
Myositis Symptoms
No matter what part of the body is affected, myositis symptoms appear suddenly, not over time. Symptoms include swelling or shrinkage of muscles, obvious pain, and weakness. A once-active dog may no longer want to run and play. Certain breeds, including the Shetland sheepdog and the collie, are prone to dermatomyositis, which involves skin lesions along with the other typical symptoms of myositis.
Diagnosis and Treatment
Your vet will perform tests on blood and urine samples, including blood titers for various infectious diseases. A definitive diagnosis requires muscle biopsies on samples from different areas of the body. X-rays, ultrasounds and other tests are necessary to detect cancer or other causes of polymyositis. In addition to treating any underlying disorder, dogs diagnosed with myositis often receive drugs to suppress the immune system, along with intravenous fluid therapy. He receives these medications until symptoms disappear, but low-dose steroid therapy might be lifelong.
Masticatory Myositis
Masticatory myositis is one of the most common types of this muscle disorder in canines. While any dog can develop masticatory myositis, some breeds appear genetically predisposed. These include the Labrador and golden retriever, the Cavalier King Charles spaniel, the Doberman pinscher and the German shepherd. Symptoms include chewing difficulties and the complete inability to open the mouth. The dog's eyes might bulge and his lymph nodes might swell. Your vet can run a blood test specifically designed for masticatory myositis. If the test is positive, your vet will likely prescribe high doses of steroids, such as dexamethasone or prednisone. Your dog must receive large doses of the medication until his jaw again works normally. As with general myositis therapy, the dog might need these drugs for the rest of his life, albeit in lesser amounts.