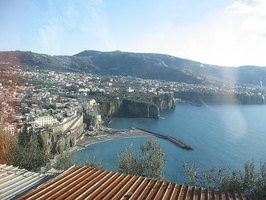 The spectacular natural beauty of the Sorrentine peninsula, extending from Punta Campanella to the Tyrrhenian Sea, makes it a renowned travel destination. At the heart of the peninsula is Sorrento, famous for its culture and art, historic architecture and original liquors.
Limoncello
Sorrento Cathedral
Located in the historic city center, the Sorrento Cathedral was completed in 1474 and houses Renaissance frescoes painted by Neapolitan artists. The cathedral also contains the baptistery where the illustrious poet Torquato Tasso was baptized.
Museo Bottega
The palatial 18th-century Museo Bottega exhibits historic marquetry woodwork, decorative arts, painting and furniture for which Sorrento is known.
Capri
Famous Ties
Photo Credit http://www.flickr.com/photos/reinoutvanrees/435274692,http://www.flickr.com/photos/epitti/203281149,http://www.flickr.com/photos/slightlywinded/2912760902,http://www.flickr.com/photos/savannahgrandfather/1402667605,http://cronologia.leonardo.it/storia/biografie/tasso.jpg
Promoted By Zergnet
Things to Do in Sorrento Italy

Sorrento, a town near Naples in Italy, has been a tourist spot since Roman times. If you're planning to stop in Sorrento,...