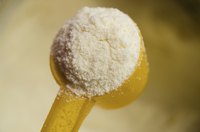 Whether you use it as a way to add nutrition without bulk to some of your food or for simple convenience, powdered milk offers a number of benefits. To limit saturated fat intake, use nonfat dried milk powder instead of whole-milk powder.
Calorie and Protein Booster
Not everyone wants to lose weight. Some people have a hard time gaining weight or meeting their high-calorie and high-protein needs. As a concentrated source of both calories and protein, with 109 calories and 11 grams of protein per 1/4 cup, nonfat dried milk powder makes a good calorie and protein booster. It mixes well in a number of different foods, including hot cereal, yogurt, smoothies, soup, mashed potatoes and applesauce.
Rich in Bone-Building Nutrients
Nonfat dried milk powder is also a good source of a number of nutrients you need for bone health, including calcium, potassium and magnesium. A 1/4-cup serving meets almost 40 percent of the daily value for calcium, 15 percent of the daily value for potassium and 8 percent of the daily value for magnesium.
Even though nonfat dried milk powder may be fortified with vitamin D, without the fat it cannot hold on to the fat-soluble vitamins and is not a good source. Vitamin D helps your body absorb calcium.
It Makes Nonfat Milk Creamy
If you're having a tough time making the switch from whole milk, or even low-fat milk, to skim, nonfat dried milk powder may be your answer. Adding 1/4 cup of the powdered milk to your quart of skim milk adds a little body and creaminess to the nonfat milk. In fact, it's how milk manufacturers make their skim milk plus versions of skim milk. It's important to note, however, that adding nonfat dried milk powder to your milk increases the calories and protein in each cup by 27 calories and 3 grams of protein.
Long Shelf Life
Compared to regular milk, nonfat dried milk powder has a very long shelf life. Even in rough conditions, if stored at 90 degrees Fahrenheit, your container of powdered milk may last up to three months, according to the Utah State University Cooperative Extension. Under better conditions, stored at 70 degrees Fahrenheit, your milk may last one to two years. That's also if the package is free from moisture and exposure to oxygen, meaning unopened. Once you add water, however, you must treat it as you would any other container of milk.