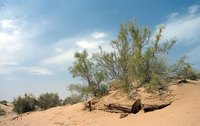 The uninitiated often imagine the Sahara as an endless line of sand dunes, but the massive desert is home to a large number of both exotic and common plants. Sweet fruits, prickly grass and woody trees all are among the plant life found in the African desert.
Geography
The Sahara is vast, spanning about 9 million square kilometers, about the same size as the United States, and it encompasses eight distinct ecosystems. Most plant life is found on the desert's Atlantic coast and the northern steppe and woodlands, while some harsher parts of the desert, such as the Southern Libyan Desert, have large areas with no plant life whatsoever.
Types
Halophytes, vegetation that thrive on high salt contents, are the most common type of plant found in the Sahara. Woody plants common to the Saharan highlands include cypress trees, acacias and oleanders. Common grasses include the bristly Aristida, Eragrostis and the bushy Panicum.
Exotic Plants
The colycynth, a wild gourd also known as the bitter apple, grows in the Sahara, and its sap is used to treat scorpion stings. The Sahara also is home to the African peyote cactus, which, like its North American counterpart, causes vivid hallucinations when eaten or brewed, and many native tribes use it in their rituals.
Foods
Several food-bearing plants grow in certain regions of the Sahara, including olive trees, fig trees, date palms, the cherry-like magaria fruit and orange trees. Thyme also is abundant in some parts of the Sahara, both growing in the wild and in the gardens of desert denizens.
Features
Because they must survive for long periods without rain, many Saharan plants have developed a unique root feature. Many of their roots creep as far as 80 feet underneath the ground to supply the plants with subterranean moisture.