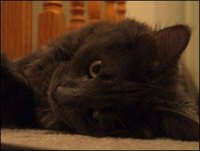 Cats are prone to developing bladder infections. Male cats in particular, should be be promptly taken to the vet upon exhibiting symptoms of bladder problems; male cats are prone to potentially fatal urinary blockages.
Periuria
Periuria is the medical term for cats that will urinate in places other than the litter box .
Hematuria
Often cats with bladder infections will have blood in their urine (hematuria), and owners usually find out when they find blood spots on the floor. The blood may often appear pinkish or light red because it is often diluted within the urine.
Dysuria
Bladder infections may be painful (dysuria). Cats affected by painful urination may howl as they urinate, lick their genitals for relief, avoid the litter box because they associate it with pain, and appear uncomfortable, often pacing around the home.
Stranguria
Often cats with bladder problems will be found straining as if constipated (stranguria), while they are really simply straining to produce urine. In this case, the cat may produce only a few drops of urine or worse, produce none, a condition known as anuria--a life threatening event in male cats.
Complications
While both female and males cats require prompt medical attention for treatment, male cats are particularly prone to complications. Unable to urinate due to the blockage, their bladder will swell often to the size of an orange. Male cats will also be prone to vomiting, lethargy, diarrhea and loss of appetite, as they eventually succumb to uremic poisoning.
Treatment
Upon exhibiting symptoms of a bladder infection, both male and female cats will need prompt veterinary attention. Female cats may simply require a course of antibiotics, males may need antibiotics as well, but if there's a blockage, male cats may require hospitalization, fluids and the placement of a catheter, until the cat is able to urinate well on its own.